MosaicMoments studio started its journey in China in 2019. During these 3 years, we have held 15 beginner workshops with about 100 people.
马赛克时刻工作室于2019年开始在中国的旅途。这3年中,我们举办了15场初学者工作坊,有约100人参与。
"The learning process of making mosaics was so fascinating. Your studio is like an enchanted place decorated with your exquisite mosaic works, with all kinds of materials and tools in good order, and serene music in the background. Here I met friends from all over the world.  We shared the same enthusiasm and enjoyment of learning the mosaic art. We learned from, inspired and appreciated each other's work. You gave each of us individual attention and insightful detailed instructions for our projects."   ——Chaoying from China 来自中国的超英
4 Community Mosaic workshops were conducted with 130 participants.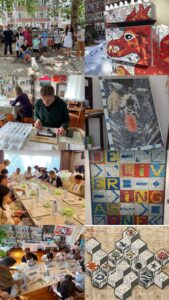 "Thank you Gertrud and your team for the diligent preparation and introduction into the world of Mosaic. I enjoyed the creative and relaxing atmosphere so much and, contributing a small unit to the master piece was rewarding experience. The food and social set up was most inspiring. Great people and great fun!"

感谢 Gertrud 和您的团队为马赛克世界所做的辛勤准备和介绍。我非常享受这个创作和轻松的氛围,为一副优秀的作品贡献一小部分是十分有成就感的体验。同时,和很棒的人一起分享食物和交谈是最鼓舞人心的。这是一次很有乐趣的经历!

——Cinderella von Dungern from Germany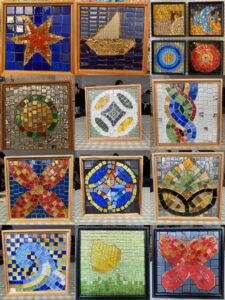 "Mosaik legen bedeutet für mich eine Auszeit vom Alltag – 2 Stunden kreativ sein, auch haptisch gefordert sein und handwerkern, um später gelöst und glücklich das Leben wieder auf sich wirken zu lassen!

Mosaic is an escape from duty and routine – I can engage in the method as well as my self-created piece of art, fully emerge in the task, and later disengage and feel happier than I was before!"

制作马赛克可以逃离日常的工作和生活——我可以完全沉浸在制作和我自己创作的艺术作品中,在结束创作后,我感觉比以前更快乐!

——Andrea from Germany来自德国的Andrea
During the time in Beijing, MosaicMoments integrated China's ancient porcelain shards into mosaic making. The collision of cultures brings participants joy and makes the workshops more diverse.
在北京期间,马赛克时刻工作室将中国古代瓷片融入马赛克制作中。文化的碰撞给参与者带来欢乐,也让工作坊更加多元化。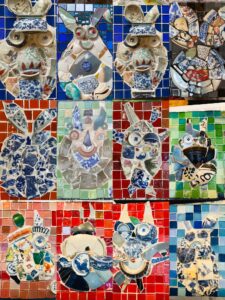 This adventure has been such a wonderful time, but it's time to say goodbye. We appreciate everyone's bravery to explore mosaic, this ancient art form in our modern world. After joining the workshops, hopefully everyone has developed an eye for mosaic which can help you discover the mosaics hidden everywhere in the city.
这段旅程充满了美好,但现在不得不说再见了。我们感谢每个人在现代还能勇敢地探索马赛克这种古老的艺术。希望参加工作坊后,每个人的眼睛能更敏锐,发现隐藏在城市各处的马赛克。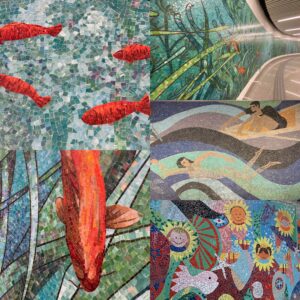 MosaicMoments is moving from Beijing to Berlin. Best wishes to everyone and Goodbye!
马赛克时刻工作室将搬到柏林。祝福马赛克时刻在中国相遇的每个人,再见!
Please stay in contact with me via email:
请通过电子邮件和我保持联系
mosaicmoments@icloud.com
You can also subscribe to the blog on  my website:
您也可以关注我的网站:
https://gertrudmuller.com/