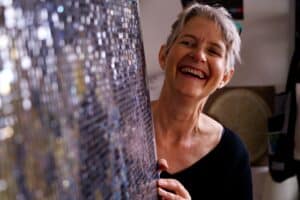 Gertrud Müller, mosaic artist
I am a full time artist and mosaic is my medium. In addition to the classical mosaic techniques and conservation skills I initially mastered, I experiment with modern techniques, materials, and methods of producing the designs for my mosaic projects. I have also created designs and coordinated collaborative mosaic projects for corporate clients in Turkey, Brazil and China.
The ritual act of re-connecting broken material to create a new image, in the form of a unique mosaic, echos my personal aspiration to connect people through the act of collaboration.
I host workshops of multiple kinds, including individual studio sessions, group workshops, team building workshops in organizations, and community based projects.
Exhibitions and community collaboration
Director of "Haus 1" community mosaic mural, Möckernkiez, Berlin 2023
Trainee at "Community Art and Empowerment Project", Watsonville, CA, with a scholarship from SAMA (Society of American Mosaic Artists)
Featured artist, "Landscape" –

 

CMA2, USA , 2022
Director of Climate Change Community Mosaic mural – Community assembly and project, Beijing 2022
Director of Delivering as One mural – Corporate team building, UNRCO, Beijing 2021
Resident artist and solo exhibition – Caicifang Art Studio, Beijing, China 2021
Director of Beijing Moto – Project 116 – Community project, Beijing, China 2021
Director of Dragon obelisk – Community project, Julong Garden, Beijing, China 2020
Featured artist, Athos meets Gaudi mural – Mosaic Arts International, Nashville TN, USA 2019
Curator of Tesselas Do Mundo exhibition– Botanical Garden of Brasilia

 

2018
Featured artist – Espaço cultural Renato Russo, Brasília 2018
Director of Athos meets Gaudi mural –

 

Corporate team building, UNDP, Brasilia  2018
Curator of MosaicMoments studio exhibition – World Bank, Brasilia 2018
Director of Mosaico de Largato – Community project, Brasilia 2018
Curator MosaicMoments studio exhibition – Lago Sul, Brasilia 2017
Featured artist, Textile & Tesserae – Institute of Mosaic Art, Berkeley CA, USA 2016
Director of

 

Star mural for refugee women – Community project, Ankara, Turkey 2015