The setting of the 350x50cm mosaic in 0,8 cm crystal glass tiles brought my family in Berlin together: first my sister in law Carolin and her lovely daughters Frida and Fanny came and helped setting the blue area above the stove.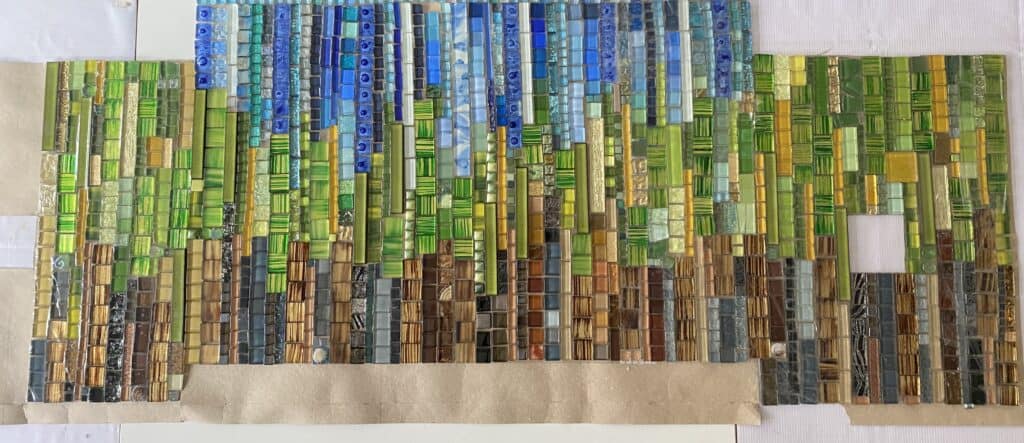 Frida  (12) and Fanny (9) loved the blue mosaic tiles and Carolin and I mached their lines with green and brown. My initial idea was to bring the colors of the Linde, the tree in front of the kitchen into the kitchen. But when I checked my stock of material I couldn't leave the very unique collection of blue and red tiles aside.  So the blue tones ended up above the stove to cool me down when I am in my cooking fever and the red tiles ended up above the sink. The reds were set by my son Emil and my husband Martin who had a great session one afternoon listening to music and setting tiles together.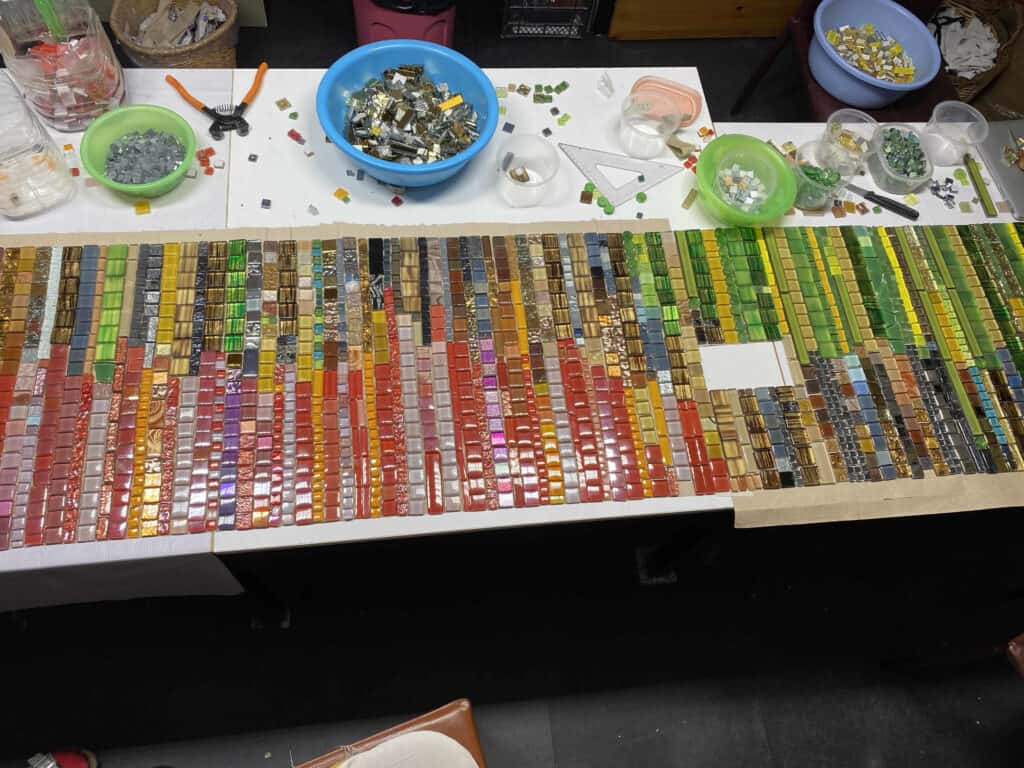 The installation on to the backdrop between the existing kitchen cabinets was rather tricky. I secured the mosaic tiles from the top with mosaic tape and cut the 3,5m into 12 sections . The most difficult part was the height. After measuring about 10 times it came out that at one end it was 50cm and at the other it was 51 cm. I decided to add tiles one by one for the higher part.
On installation day my husband helped to glue the mosaic to the wall and together we worked fantastic as a team. Didn't expect that, as Martin is usually the one who workes with emails, meetings and phone calls and not with cement, tiles and around slopie lines.
When I grouted the mosaic my parents in law came by and my mother in law was the best grout cleaner in the world! With her 82 years she polished the tiles with great rigor.
We had a lot of fun debating if the Film that was still to be seen a residue of the grout material or the quality of the smoked glass!
I love my kitchen mosaic and all the time I spent with people dear to me making it.