…. now, what shall be the design?
I am so enchanted by the animal pictures of the old greek and roman mosaics. Done a couple of bird mosaics for bird baths before and love the way they become alive once modelled with little tesserae!
So the shower/hamam garden extension in our house will get fishes to get the real feel of the sea into this little room!
The most realistic and lively depicts of fish I find in the poseidon mosaic at the Zeugma Museum in  Gaziantep in south east Turkey which I visited several times in the past years
From a photo I cut the figures with photo shop and played around where the fishes should swim in our shower in Ayvalik taking into consideration view points and dynamics.
I wanted them to go up the wall of the hamam benches too – look at this 3D picture! Firat (our architect) and I sat for several hours with photoshop, autoCAD, water and wine to make the fish pictures movable and insert them into the architectural drawing in 3D.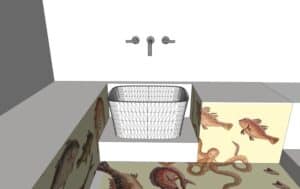 after several drafts out came :
For the technique:
I will use the reverse method which means glueing the tesserae upside down onto the print of the design.The print will be in reverse. The wall parts will be divided into more or less squares that fit together like puzzele pieces. These tiles will be mounted like you mount tiles onto a wall. After the wall parts are mounted the fish figures on the floor will be fitted exactly to their parts on the wall. At last the background between the fishes on the floor will be filled with background tesserae in situ.
My plan is to do this in 3 month.