Yesterday, Saturday Feb 27 was a true example of team work: during two hours 21 participants were silently (to bring out the meditative qualities that mosaic laying has) working in the sacred mosaic moments studio each on one segment of a mosaic.
Interesting how different the approach of participants was to make their segment. Some went row by row, some by color in their material box.
Over a delicious lunch cooked during the period of mosaic making by 3 participants under the instructions of snack chef Martin, the hungry mosaic makers were refueling their energies and need to talk. It was a happy buzzing lunch break after 2 hours of silence.
Coming back to the studio after lunch was full of suspense – the image wasn't revealed to participants before – What would it be? Each participant brought their segment to the front and I temporarily mounted the 18 segments together on an Aluminium honeycomb board. This was a great moment of joy.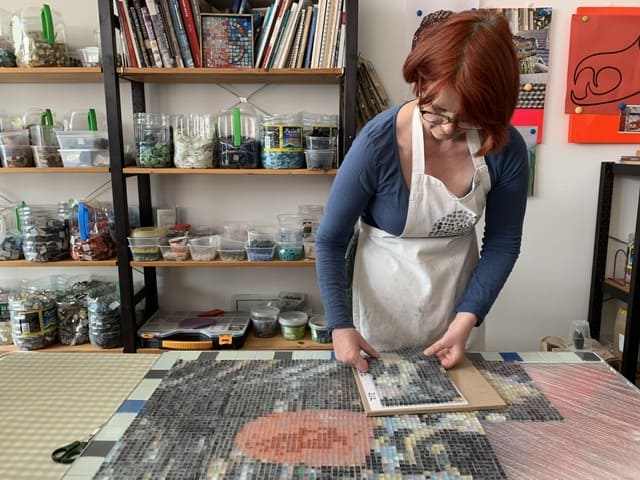 The suspense was immense and wild guesses entertained the process. All together a fun afternoon bringing people together creating, eating and laughing
Here are some quotes from participants:
Indeed, it was such a wonderful workshop. The joint efforts made the experience special. Music was also carefully selected that was  like a breeze touching the peaceful inner self in the early spring. Thank you Gertrud for the great time! @Gertrud木乐 And thanks to Martin for the delicious lunch. J.Loh
Great project, great activity, great company, wonderful community art! Great Saturday! Thank you Gertrud. @Gertrud木乐 Ah! And great food!!! Thank you Martin! Paloma Sanchez
Thank you Gertrud and Martin and your team for the diligent preparation and introduction into the world of Mosaic. I enjoyed the creative and relaxing atmosphere so much and, contributing a small unit to the master piece was rewarding experience. The food and social set up was most inspiring. Great people and great fun! Cinderella von Dungern
thank you Gertrud for the great and special mosaic art project, this was a wonderful Saturday, l start interest in mosaic, …. Yan
So much fun and and a super outcome, thank you! Annalize Heyn
1000x800mm mosaic ca 5000 tesserae laid in two hours by 20 participants