Hello – be prepared for the unveiling!
With more  hot water, a scrub and the energy and enthusiasm of  Rifat Usta the remaining glue was removed.
The unveiling and cleaning of the wall took half a day of 3 people. The difficulty was to keep the surfaces wet and warm so the softened glue would not get cold  and dry and then stick to the tesserae again.
I am very satisfied by the result. Of course some tesserae came off.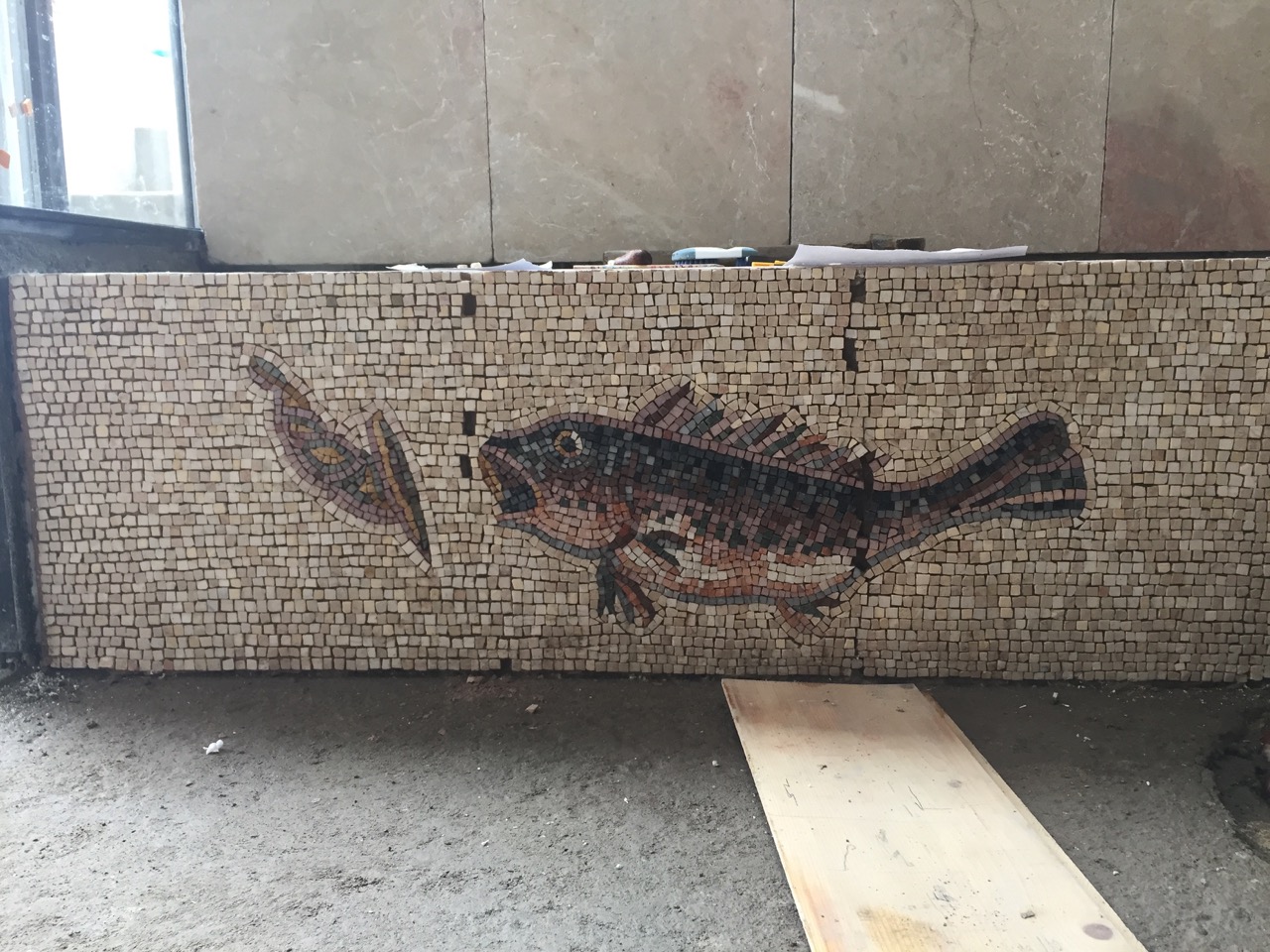 I also left some deliberate gaps at the joints of the tiles for easy fitting. These we put back in one days work with liquidish tile cement which we squeezed into the cleaned holes and then stuck the prepared tesserae back..
Two days later, the figures for the floor were installed.
(Be prepared for more technical description.)
At this point I want to thank tiling master Yusuf and our foreman Rifat again for their patience to understand what I could only communicate in very limited vocabulary. They really took to the project and used their knowledge flexibly to adapt it to this very special task.
The installation of the floor pieces  went in similar steps then the wall.
Today I had a rest to let the cement dry. At 4pm I wetted the pieces well with water, covered them with cloth and covered this again with a plastic sheet in order not to dry out over night.
It is raining heavily at the moment. This will help to keep them moist. Tomorrow afternoon I am planning to remove the protective sheets with my family.  You will read about it in the next blog.
I have been in Ayvalik on my own for 4 weeks now. Which was good in order to fully concentrate on finishing the building site and installing the mosaic.