This week is all glueing stones onto the canvas and let the fishes and other sea creatures come alive!
We also drink arab style coffee and eat freshly made lachmanchun for which the filling is made by Nadide, Nusret's wife and which is then being baked in the neighborhood bakery. Lachmanchun is a very thin dough topped with a thin layer of minced lamb that is mixed with spices and herbs. This with fresh ayran, the salty drinking yoghurt is the best lunch you can have in extremely hot Gaziantep summers.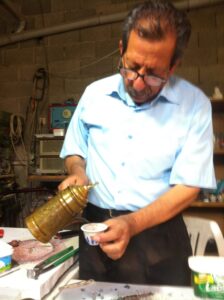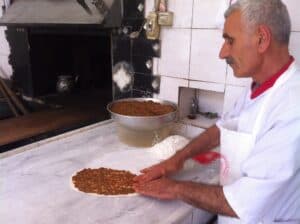 This week I have moved from the hotel to Ayse Gultekin's home. Ayse lives in Gaziantep and offers me the room of her son who is on holiday with his father.
Her spacious flat really reminds me of eastern Germany with the tram rattling by on the street outside and its parquet floor and double french doors.
In the past years the Ministry of Culture of Turkey has opened 12 regional conservation laboratories to take care of conservation of state owned cultural goods in museums and on sites.  Ayse heads the lab in Gaziantep. During her career she lived and worked in Germany so we could speak German together!
Every night we meet in the kitchen. It is extremely interesting to talk to her about her career in restoration and conservation and her current work.
In the mornings I go to work with the tram and enjoy tremendously to leave the house early and come back late, completely ecsausted but often to a warm meal cooked by Ayse. It feels so wonderful to be the one that works 10 hours a day and is coming HOME compared to my past 20 years when I always was the one in the house receiving the family members who where coming home from work and from school.
This week I also get the opportunity to join Ayse on a trip to the new mosaic museum in Antakya /Hatay province.
Ayse not only lets me a room she also lets me use her car so that I also had the opportunity to visit Zeugma archeological site which is about 30 km from Gaziantep and meet with Prof Selcuk Sener one of the most experienced conservators for mosaic in Turkey.