Exactly one year ago I spent 3 weeks with the "Watsonville Brillante" Project in Watsonville/CA to learn from them about large scale community art projects. I will report about it at the International Conference of  SAMA (Society of American Mosaic Artists) and SGGA (American Glass artist society on September 30 in Buffalo/NY. Read about this internship for which I received a scholarship of SAMA.
The Muzzio is the city of  Watsonville's community mosaic workshop. Here every afternoon members of the community drop in and help beautifying their city with mosaic works.
On Mondays, Tuesdays and Thursdays Highschool Students are coming after school to spend a few hours winding down from busy school day breaking and setting mosaic pieces with their AirPods in their ears. When I arrived on September 6 a Croatian board was being started using very small tiles to depict the stitches of a needle work with the typical pattern from Croatia.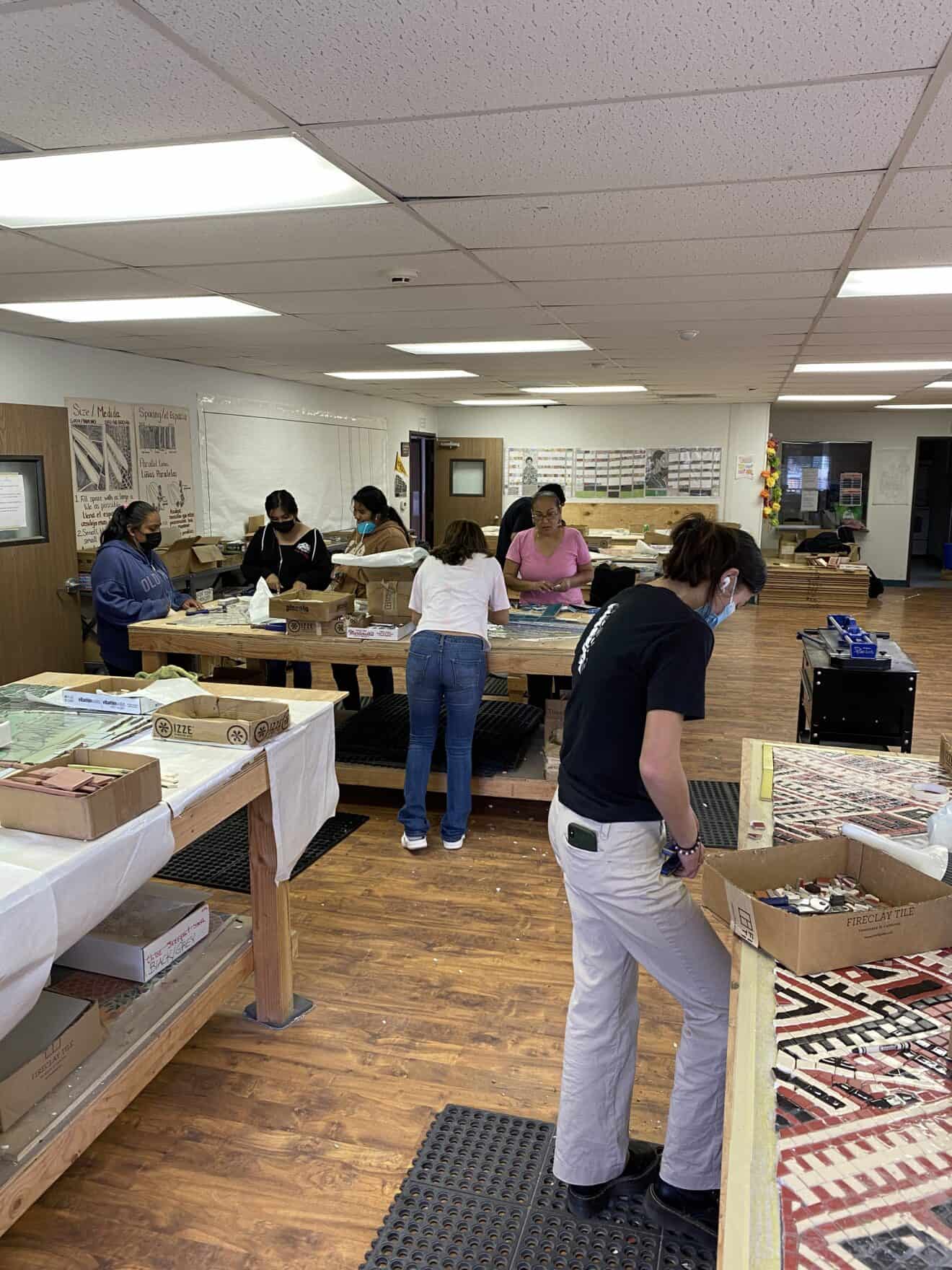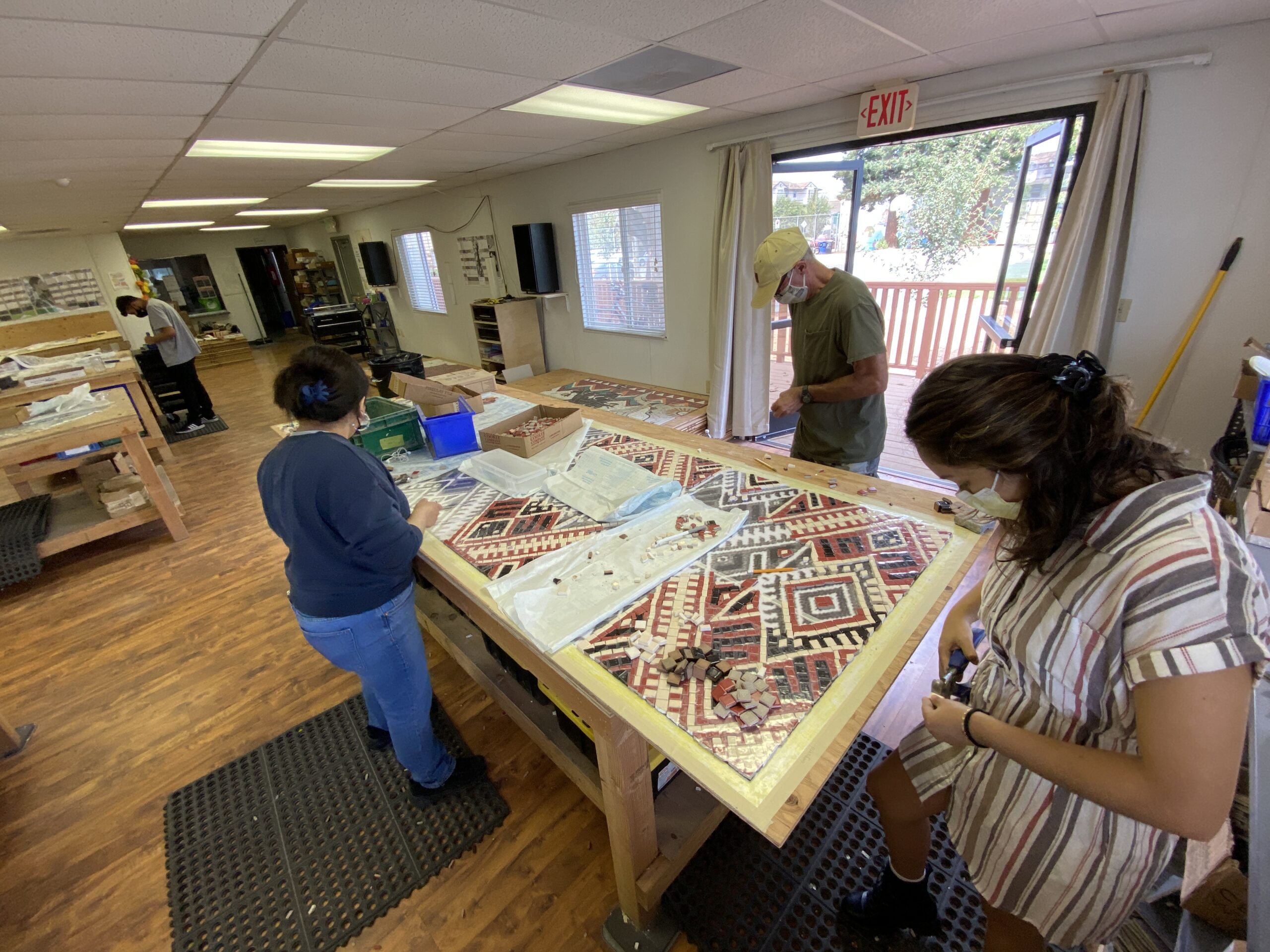 On Wednesdays is women's day at the Muzzio. The atmosphere is more chatty! Together with Helga and Suzanne, two Germans I am working on the design featuring a Chinese dragon and a Jewish Star symbols for the family of the main private sponsor of the project. How long will it take?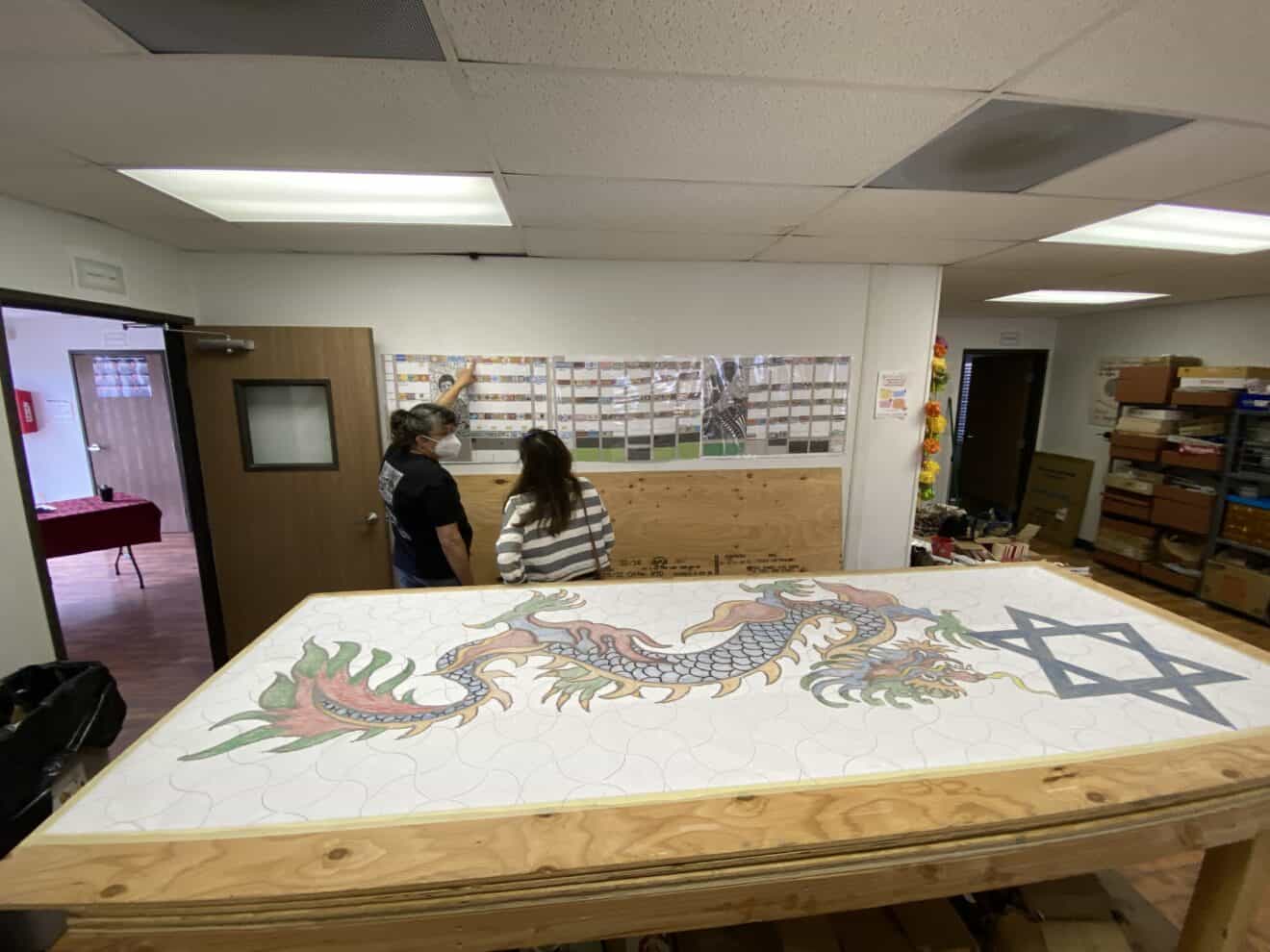 On Sunday I met the Mekiz family of Croatian heritage working on their panel. They submitted the design, sponsored the material and installation costs and now came to spend a creative family afternoon together.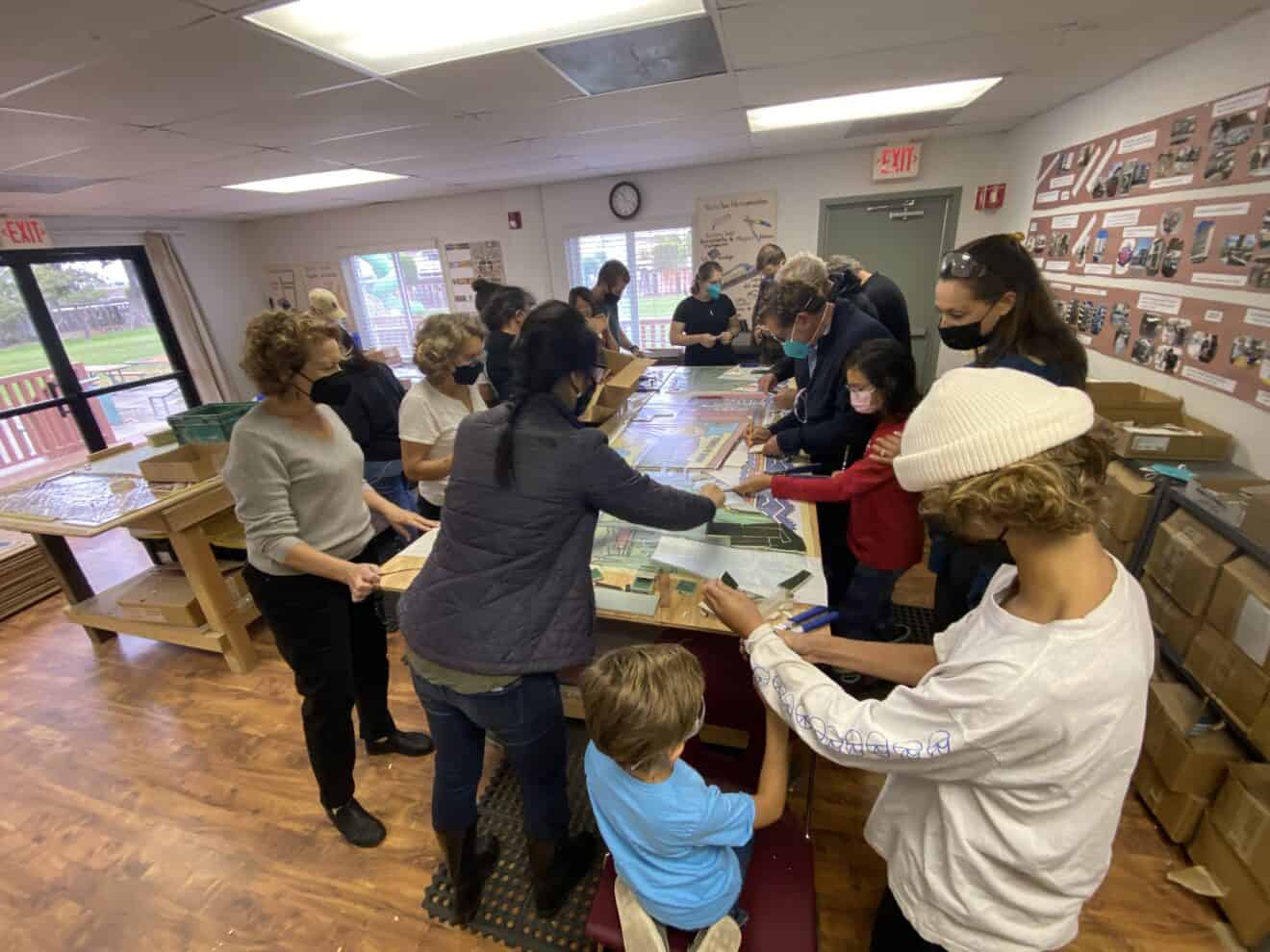 The city of Watsonville has taken on this community arts project about two and a half years ago. They are decorating their City garage (Park Haus) with mosaic!
Art director and manager of this ambitious project is Kathleen Crocetti a middle school arts teacher well known in the area of Santa Cruz and Watsonville for her public art initiatives. Kathleen decided to take on Antonio Gaudi 🙂 and make Watsonville as famous as Barcelona for its mosaics. Her most recent project is to decorate the rather blunt walls of the city garage with mosaic. She is not seeking to get creative here herself, rather she involves community from the design stage onwards.
The first phase of the project was to cover the 4 large areas where the staircases of the buildings are. For this the city called for submissions of designs by local artists. The population had to vote on the designs. 4 woodcuts from Juan Fuentes won.
Renowned artist, Juan Fuentes, former Watsonville resident and alumni of Watsonville High School, is honored to have us use his images for this project. We selected four pieces of his work which were enlarged and fabricated into mosaics.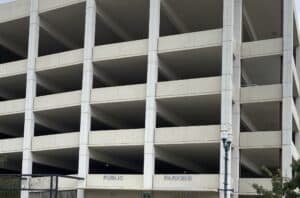 The ribbon like horizontal areas of the building sparked the idea to have the community at large participate in sending designs that symbolize their families cultural roots. In a first call for submissions 90 families sent in their designs. But this would only fill half of the segments given by the expansion lines of the concrete elements. So Kathleen wrote a curriculum for Highschool arts students and her fellow arts teachers happily cooperated. In came 50 more submissions. Many families are of mixed heritage. Like in this board: the checkered pattern represents Schottland, the pastel flowers on white background is Swedish and the Hummingbird a symbol of
"Our project Watsonville Brillante aims to represent multi-ethnic patterns of particular family units on the 185 horizontal portions of the garage's exterior and place each family's representation next to another family's representation in such a way that their common heritages overlap with a shared visual pattern. Combined, they will represent our community as a whole." (From the project's website https://communityartsempowerment.org/mosaic-design-process/
To design and craft your family's and your neighbors cultural symbols as a piece of mosaic art which then will be publicly displayed for centuries at one of the main buildings of your city – this should make the people of Watsonville proud and happy to live here.
And I am happy to be able to experience it not only online! Thank you for Kathleen to be such a thoughtful mentor and to the whole Community Arts and Empowerment Team to have me with you !