Since 3 years I am a member of the Society of American Mosaic Artists – SAMA. SAMA has around 900 members including mosaic artists at all levels, mosaic aficionados, collectors, materials suppliers, and art educators and is almost entirely run by volunteers .
One of the activities SAMA is organizing is a yearly conference that brings members together, through exhibitions, workshops, auctions, tours and simple living together during an entire week. At the same time SAMA educates the public about mosaics through exhibiting mosaic art in the respective city where the conference takes place. This year the conference was held April 23-28 in Nashville/Tennessee.
The mosaic exhibitions
Mosaic art works were exhibited in three important public buildings of the city of Nashville during January – May 2019.
Architectural&community mosaics at the Public Library,
Fine art mosaics and "one hundred moments in mosaic' at the Parthenon building – yes Nashville has a one to one replica of Athens Parthenon! –
and an exhibition of 5 renowned mosaic artists at the Vanderbilt Universities Fine Art Gallery. I will give you some photos of my favorite works of the three exhibitions.
The community mosaic "Athos meets Gaudi" that I created with the staff of UNDP for the UN Building in Brasilia was selected for the show of architectural mosaic art at the main building of the Public Library of Nashville. Arriving in Nashville on April 22 the huge classicistic building of the Library in the centre of town was our first destination. (My friend Miriam and I did a road trip from Detroit to Nashville, driving trough blue grass and country music territory). Nineteen mosaics applied to architectural surfaces were shown in the gallery of the main hall of the library. As you could not bring the projects themselves to the exhibition, each project was presented in a poster and a screen that displayed more photos (iPad format). Some projects had examples of work, sketches, tools etc presented in large glass vitrines on two sides of the gallery.
I was impressed by the exhibition design and dedication of the curators to convey to the public a lot of information about all this very interesting projects being realized as commissions in different places of the world.
I can really recommend you to look at Kathleen Crocetti's "Celebrating Diversity of Labor" community mosaic project involving immigrants communities in the design of 16 mosaic medallions inserted into the pavement of the main street of Watsonville, California. This project was chosen as the best community mosaic project for this exhibition.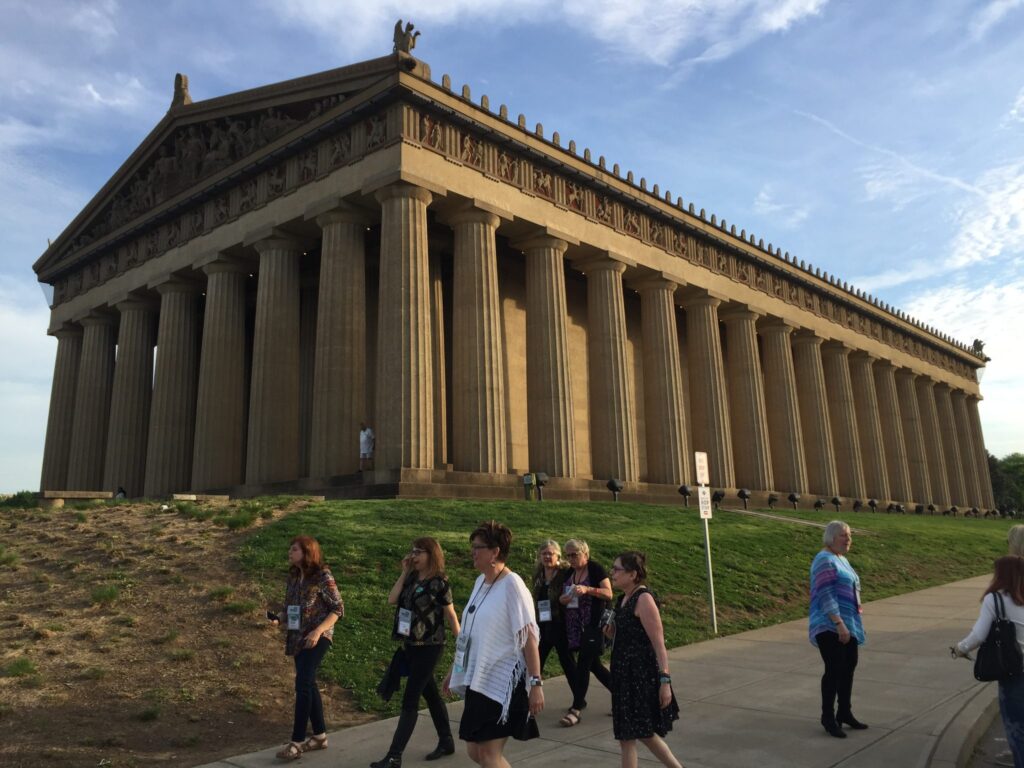 The Fine art mosaics exhibition was in the centre of the exhibition space at the Parthenon. 38 mosaic works were presented. These mosaic art pieces were produced from many different materials, as it is the beauty in mosaic to have this sheer endless variety of materials to create with. Reading through the artists statements it struck me that all of them were inspired by a concern over environment – being it nature or social.
On Wednesday evening during the conference we could visit all three exhibition spaces with a hop- on- hop- off bus that toured between them and the hotel.
At the fine arts exhibition we all stood somewhat awed trying to figure out meaning and techniques whilst speaking to the artists present amongst us but when people entered the back room with the exhibition of "one hundred moments in mosaics", the spirit shifted to expressions of pure joy of these adorable small creations.
These mosaics were created for exhibition just using the same size frame (15×15 cm) as a uniting element of all projects. Experiencing this I would like my mosaics to create moments of joy rather then awe and heavy thinking.
At the third exhibition venue, the Vanderbilt University Fine Arts Gallery, 5 renowned mosaic artists: Atsuko Laskaris, California; Lilian Broca, Canada; Shug Jones, Texas; Michael Kruzich, California; Carol Shelkin, Pennsylvania could show their works between March and May 2019. Yes these are clearly masters of their techniques. Some of the projects measuring between 1-2m in length and width.
Michael Kruzich

Carol Shelkin

Lilian Broca

Shug Jones
The conference
During the conference, which lasted from Tuesday to Sunday, one could choose from almost 20 workshops, attend about 10 lectures, go to three mosaic exhibitions, buy mosaic tools and material from 20 different vendors and acquire mosaics of a famos artist in an auction, attend the General meeting and network with more than 300 other mosaic makers from all over the US, Canada, Puerto Rico and Brazil !
And a nice activity one could always drop in was the SAMA community mosaic. As always, it was refreshing during all the talks and chats to sit in a room with others concentrating making mosaic. I really thank Jairo and Suzan Prado who were the organizers of this community mosaic work to provide us with this opportunity.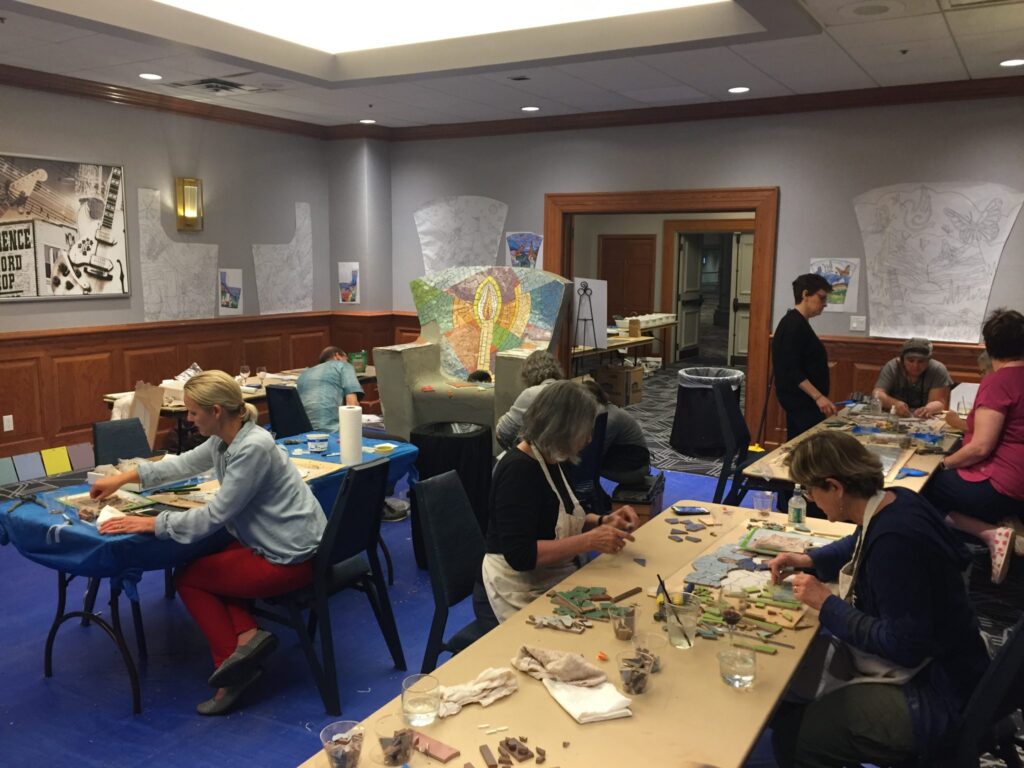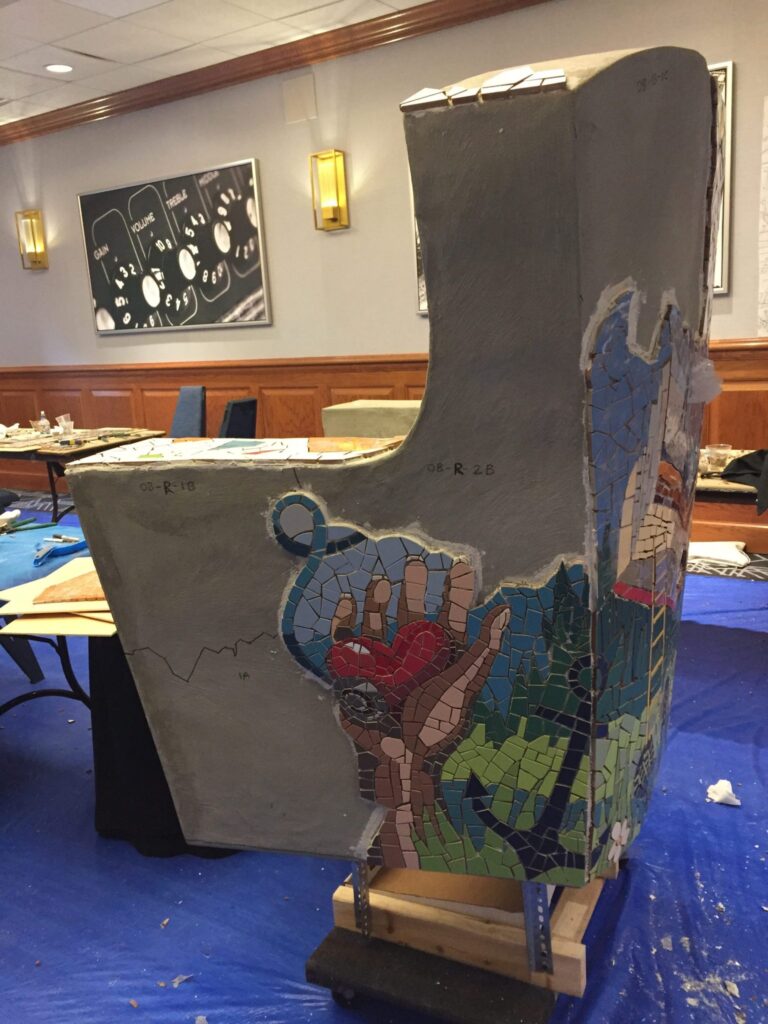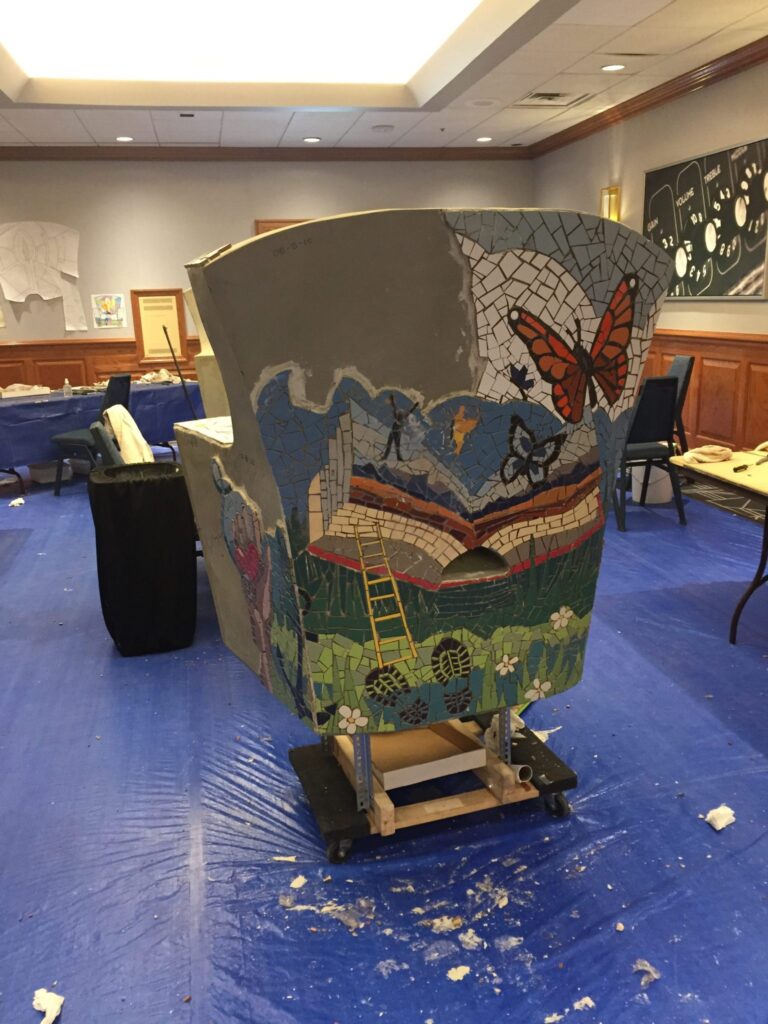 On the makers side I participated in two workshops: cement carving with Elder Jones and Picasette in Portraiture with Gila Rayberg. In the cement carving class
We mixed cement and sand and water

and filled it in cylindrical molds.

After 2h drying time

the cement is hard enough to keep the form of the mold

but soft enough to be carved.
At the portraiture class we learned how to use parts of dishes in portraiture. The technique using dishes in mosaic is called Picassiette. I never regarded this as a very artistic material but Gila Raysberg convinced me of taking this technique into consideration for my own work.
At the Picassette portraiture class Gila introduced to seeing shapes in dishes that resemble areas in a face. It was fascinating how you can use every part of a dish for creating lines and shapes!

made out of this one plate!

Can you recognize the part used for the ear?
At the weekend one could attend lectures. All of them were very interesting topics – on Friday more around promoting our mosaic works and on Saturday 3 very interesting portraits of houses decorated with mosaic and the people behind it. If you are interested check out:
Ilana Shafir, Ashkelon, Israel
Ricky Boscarino, Luna Park, Montague, NJ
My main take homes from the conference are:
Got to know the world of American mosaic makers
Reassurance that I have acquired good knowledge in my self studies and projects
knowledge of many interesting projects in the world of mosaics
I've found my guild,
I met new colleagues and made new friends
I purchased 2 mosaics that are with me in China now