September was very exciting – the "Athos meets Gaudi" project went into full production. But let me tell you about this project:
Inspired by Athos Bulcão, a Brasilian artist (who's 100 birthday the city of Brasilia celebrated this year) I was curious if I could translate one of his murals into mosaic. We make use of the same material: tiles and often his works are also referred to as "mosaics". Here is a link to his works: http://www.fundathos.org.br/galeriavirtual
In January this year I visited the anniversary exhibition in Brasilia of his works about 10 times to study his forms and approach. My idea was to make a mural with a community in Brasilia, letting each participant recreate one of his tiles in mosaic and so learn about his forms in recreating them. For this a very simple pattern was needed. I got very excited to find a lot of material about the mural that he created for the telecom tower in Brasilia in the exhibition. Luck was even more on my side that I could see the original wall (created by Athos Bulcão in 1966) during a design exhibition at the exhibition level  of the telecom tower in spring (which is not often open to the public).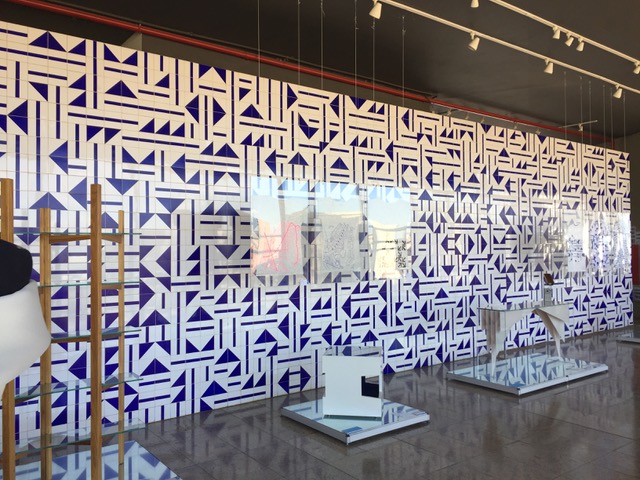 You can see the wall is created out of triangles and stripes. These are just two tile designs (see photo below) turned into different directions and so forming different patterns.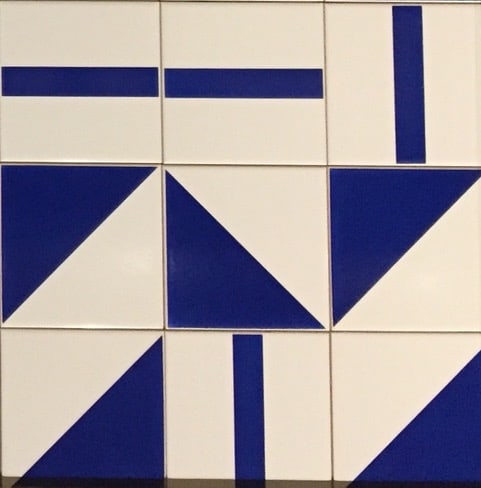 I decided to use the same material like in this mural – tiles, but the technique of trencadis that was developed and used in all of Antonio Gaudi's tile works in Barcelona. It basically uses chards of broken ceramic tiles to make a new design. Already in April I made two models of Athos Bulcãos tiles in trencadis technique using 10 colors. The same pattern like above looks then like this: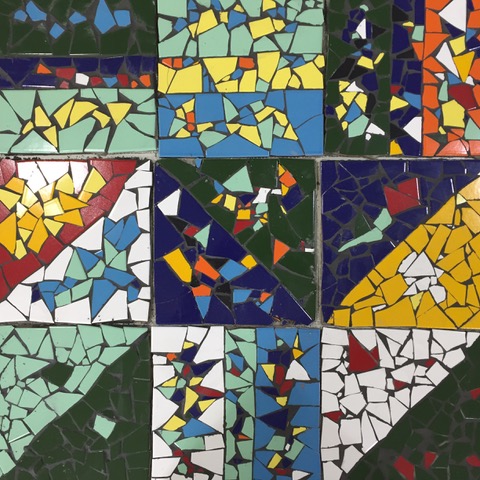 These tiles were made by students of the American School who's art teacher kindly let me run a workshop to test if making these mosaics is doable for someone who has never done mosaic before.  Finally after two more workshops, being certain that it would work, I found a wall and an organization that liked  this project: the United Nations Development Program (UNDP) in Brazil. The organization moved into a new building not long ago and is still looking to decorate the walls in their entrance hall.
So we chose this 2.5x3m wall to be decorated with the "Athos meets Gaudi" mosaic. And together with the management of the organization we decided to make it into a "staff well being" activity letting all staff participate during their working hours. For the 7m2 we needed 120 tiles = 120 participants!
So over the past 3 weeks my assistant Ligia and I run 8 workshops with 95 participants making 95 tiles. (the 25 other tiles were already made in previous workshops during the trial phase) One of the meeting rooms at the UNDP building was transformed into a mosaic workshop during 2 weeks. Where otherwise just thoughts and words were being communicated in meetings – during two weeks in September, hands broke tiles with hammers  and eyes and spatial senses were being used to arrange the tiles  on the wooden bases and glue them onto fibre netting.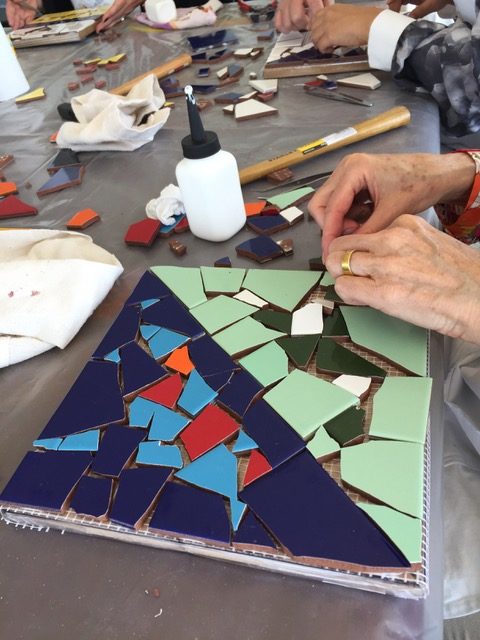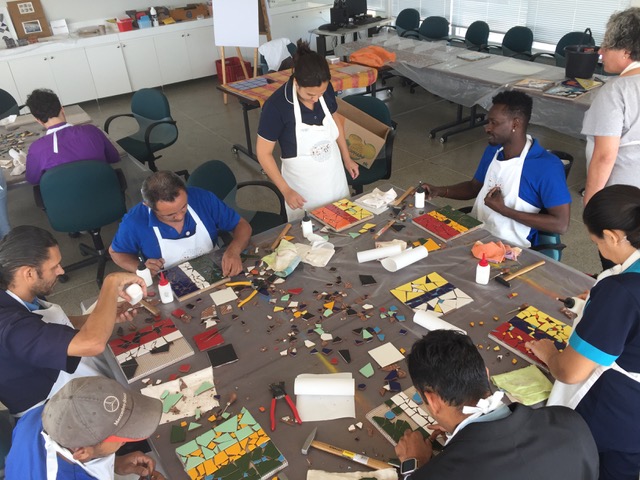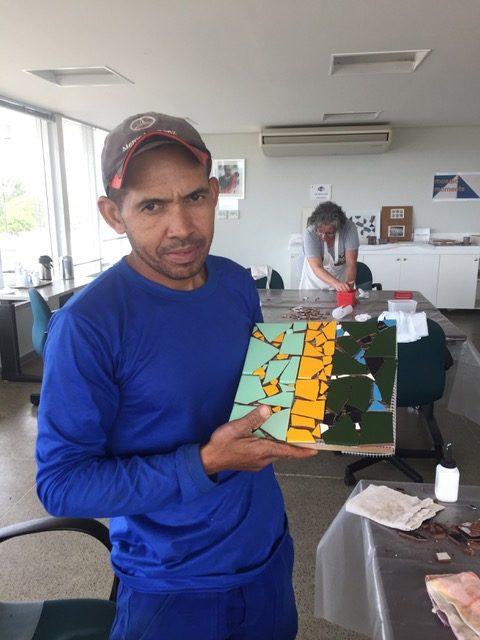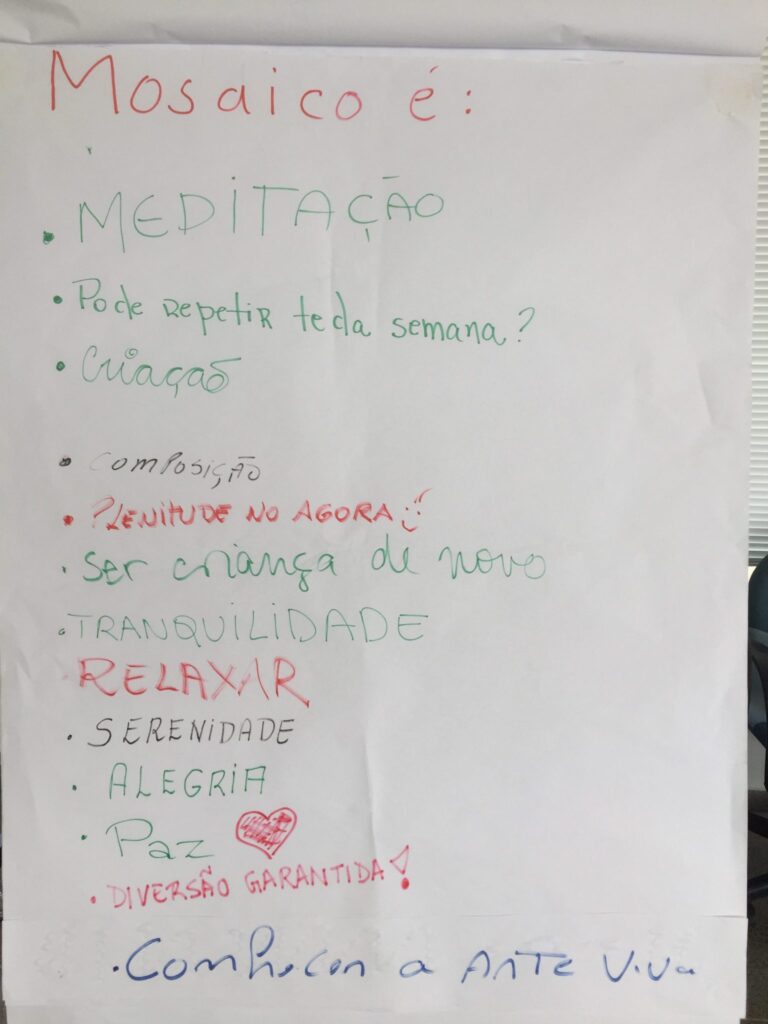 Participants reflected on their feelings during the workshop
Ligia was an indispensable partner in these workshops taking over the speaking part in Portuguese which I am not so certain of. At the beginning of each workshop we spoke about mosaic making and the two concerned artists Athos Bulcão and Antonio Gaudi. Then both of us lead the works on a table with max 8 participants. We both worked hard preparing and organizing material for the workshops but enjoyed each others presence and sense of organizing things and processes in a  practical way. Next week on October 6 we will install the tiles on the wall.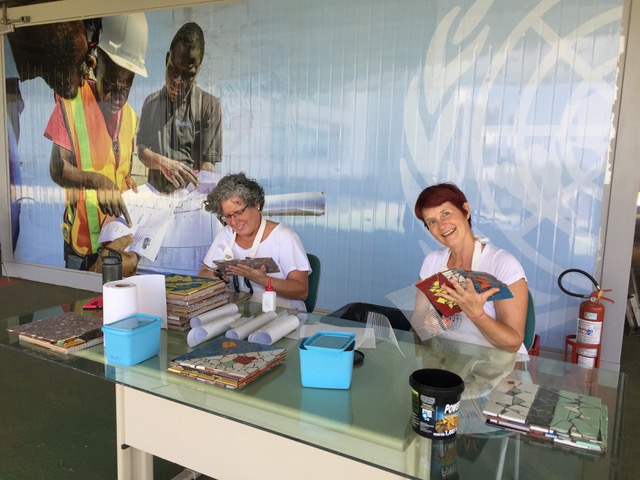 Watch out for my October blog which will report about the installation and inauguration of the mural.